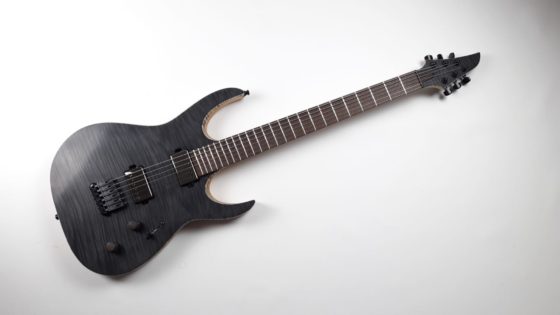 When a musician plucks the strings of a guitar, he sets in motion vibrations that travel from the bridge to the top of the guitar.
The guitar's body amplifies the sound; the pickups convert them to electricity and an amplifier finally sends these waves to the listener's ear… a seemingly simple process made complex by so many variables in the chain. In the end, an instrument is an extension of the musician's body, and their connection is vital for playing great music.
That's why Christoph, the composer and guitarist of behind closed doors, wanted to have a custom guitar; it had been more than a decade since he had bought a new guitar. For him, a guitar is a precious tool, but a tool nonetheless. However, he wants this tool to align with his style and to create the sounds he composes in the best way. An inspiring instrument fuels the creative process, another reason to have a custom guitar built.
The idea of a custom-made guitar slowly took root in Christoph's mind over the years. His childhood friend, Matthias Seybold, is a master luthier; the two started playing the guitar together in their youth. Later, when Matthias became a guitar builder, he was always the go-to person for any improvements on Christoph's guitar. It was a natural evolution, after years of having his guitar fixed by Matthias and endless talks about the instruments, to have the ideal guitar created by his friend.
Matthias Seybold is a guitar craftsman from Germany, a master of fixing guitars and building customised pieces based on the client's vision and needs. He is passionate about his work and puts a lot of time and attention to detail in each of his creations.
Christoph wanted an unostentatious guitar with no bells and whistles. The result is a custom baritone, with the neck made out of maple. The instrument has bog oak stripes and two carbon rods for stability. The wings of the body are made of alder. Fretboard and volume/tone knob are bog oak as well. The top of the guitar is book-matched maple. Matthias doesn't build with exotic or endangered wood; he believes in sustainable guitar building – sometimes using wood from local fruit trees.
Other technical details for the guitar geeks out there include Schaller locking tuners, Graphtech nut, Schaller Hannes bridge, Lundgren Black Heaven pickups, which were later swapped for a pair of Seymour Duncan Pegasus/Sentient, Push/Pull knob for coil splitting, and an oil finish to keep the feel of the guitar as natural as possible. Brigitte was born!
The process took about five months, starting in October 2020. Matthias and Christoph sat together to write the specs for the perfect guitar. The final piece was produced in March 2021, just two weeks before recording the new album, "caged in helices". Brigitte stole the spotlight immediately and was chosen to be THE one used for the recording. It was a decision made after doing a few blind tests with the old and new guitars and choosing the one that gave the best results.
In the video below, you can see how Brigitte was built and hear how she sounds in the studio:
"It's always a special moment when you take a guitar into your hands for the first time," said Christoph, as he describes playing the new guitar. "You never know if you will connect. Luckily, Matthias' guitar and I gelled instantly. Probably because we specced the guitar to my preferences regarding fretboard radius etc., but it was still a bit of a gamble."
"Now, every time I pick her up, it's a joy to play and compose on that instrument. You explore it over time, find some sweet spots on it, and it inspires you to write new music. Nonetheless, a guitar is a process. She changes with the seasons; the wood still settles a tiny bit here and there. But the simplicity of the guitar and the extraordinary built quality makes every adjustment a quick fix. I couldn't be happier!"
Playing a customised guitar can make a tremendous difference in the musician's output and development. The relationship between them is very personal, and it can last a lifetime. Christoph was lucky to find a luthier who knew him well and was open to adapting to his requirements; he found someone who built a guitar that was a good match right from the start.
You can appreciate this new guitar's sound in the upcoming album, "caged in helices", which will be released on October 28th. The first single, "the anti will", is already available on YouTube and all digital download platforms.
If you want to check out Matthias' work, have a look at his website.